Time and Attendance Solutions
PayPlus® is pleased to offer our clients several time and attendance products based on the needs and size of your company. Timekeeping solutions calculate data in seconds, minimize human error, cut down on wasted labor time, and save our clients time and money each pay period.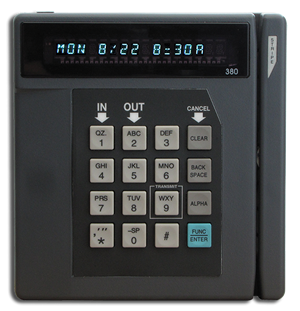 TimeClock – Our standard plug-in clock was designed with "everyday people" in mind. There is no software to install or manage, and the unit is ready to go after a quick, two-minute programming process. It requires only a power source to collect punches and a standard analog line. Employees simply enter their time, jobs, and tips via a badge or punch in with a designated code.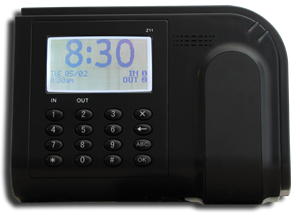 FlexClock – This comprehensive timekeeping solution channels all of today's timekeeping technologies through one simple hardware solution. By combining the traditional employee "swipe in" method with biometric and telephony time tracking, it offers a versatile timekeeping solutions to meet the needs of any workforce. It uses a standard analog, Ethernet, or wireless connection to send data to the web. FlexClock's compact design is ideal for wall-mounted hardware.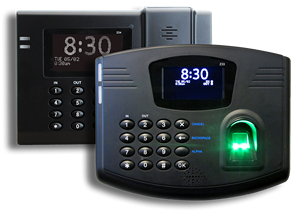 BioClock – This clock represents the next generation of time and attendance solutions, making use of an employee's unique fingerprint to record real-time punch entries. Because it sends data to the web virtually in real-time and eliminates the costly expense of "buddy punching," BioClock is a valuable tool for managing your workforce day to day. These clocks are available as either Ethernet-enabled connected directly to your computer, or dialup using a phone line.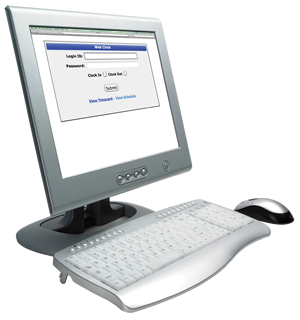 WebClock – Employees can clock in/out and view their time through any web browser. WebClock is the most simple, convenient, and affordable timekeeping solution available. Because WebClock is web-based, you can have a time clock anywhere there is a PC with Internet access. To avoid the risk of fraudulent employee punches, IP addresses can be used to specify which computers will act as a time clock.
VoiceClock – Our voice clocks are an advanced timekeeping solution that combines the efficiency of automated timekeeping with the convenience and mobility of a telephone. To prevent unauthorized employee punching, Caller ID may be used to designate which phone numbers are permitted to act as a time clock. This clock is particularly useful for businesses where employees travel to clients houses (such as home health care providers).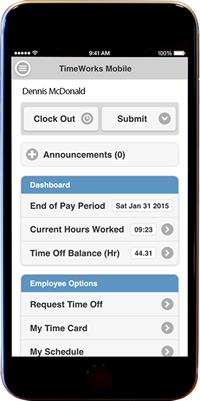 TimeWorksMobile – This mobile app is our Integrated Timekeeping solution, where employees can punch in/out from anywhere. The employee self-service area also allows employees to submit time-off requests, approve time cards, and view schedules and PTO balances. PinPoint GPS location data is also collected for the employer.
PayPlus time and attendance products ensure accurate timekeeping records, shorten your payroll processing time, and improve accuracy of auditable timekeeping data for compliance (DOL, FLSA, ACA).
Click here for a full demo and training on our time clock product.